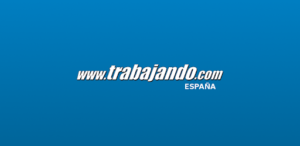 About the company
This article is machine-translated. Read the original Spanish version at trabajando.com España.
That's Trabajando.com, the largest network of employment sites in Latin America, among which are companies, universities, professional institutes, chambers of commerce, trade associations, municipalities, media, among others.
The incorporation of Universia, a Santander Group company, to the company has allowed us to develop an exclusive software for the most prestigious universities in the world, the SAAE, in order to facilitate the labor insertion of its students and graduates.
In addition, thanks to corporate portals, leading companies can recruit the best talent and more varied profiles, and users can access a large number of job offers.
Our alliances with chambers of commerce, groups and media, also provide our users with an important platform with first-class technology when looking for their next job, and give these institutions the possibility of recruiting the most suitable personnel for the job. position or position they seek.
Trabajando.com is not only an Ibero-American employment network, but it is a complete platform that provides efficient services to optimize the processes of recruitment and selection of institutions, such as SAAP, GPS, and Internal Mobility Management software.
Proof of our expertise in the labor market are the successful Human Capital Expo and the Labor Market Fair and the Entrepreneurship Fair. Added to this, Trabajando.com has its own consulting area: HR Consulting, a global institution that complements all our services, offering greater added value to companies such as executive search and selection, outplacement, training, among others.
Finally, the volunteer portal, Ayudando.com, offers foundations a site that allows them to publish various projects. All of this with the purpose of encouraging, empowering and professionalizing the solidary market.
Services and Offers
The offer for candidates is the opportunity to search for vacancies.
For employers there is the possibility of publishing free job offers.
Headquarter
Boadilla del Monte, Madrid, Spain
Staff
1 to 100 employees
Founding year
2006
Contact
Comunidad Laboral Trabajando Ibérica SLU
Avda. de Cantabria s/n
Boadilla del Monte
Madrid (28660)
Spain
Trabajando.com España
C/José Abascal nº36 Bajo Izquierda
28003 Madrid
Spain
Tel: +34 91 75 83 660
E-mail: personas.es@trabajando.com
Website: https://www.trabajando.es