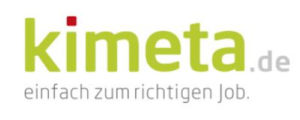 About the company
This article is machine-translated. Read the original German version at kimeta GmbH.
Just the right job!
kimeta is THE search engine for job adverts in Germany.
The job search engine searches all major online job boards and also the job offers of companies, career websites and recruitment agencies. The hits are sorted by artificial intelligence according to qualitative criteria and timeliness.
kimeta delivers quality
In order to find the right ones out of the enormous amount of jobs, we use not only our know-how and a few simple tricks but also innovative technologies such as AI support, semantic search and duplicate recognition.
kimeta creates transparency
kimeta is searching for jobs on the net. It covers job boards, career sites, recruitment consultancies and job boards of companies. With this meta search, kimeta takes into account considerably more positions than can be found in the classic job market.
kimeta brings visibility
kimeta is one of the top 5 German commercial job portals in internet ranking.
Services and Offers
The services for applicants provide the opportunity to search for vacancies.
There are several paid services and offers for employers, such as placing job advertisements (starting from 195 euros).
Kimeta press releases provide additional insight into the company and labor market in Germany.
Headquarter
Darmstadt, Hesse, Germany
Staff
1 to 100 employees
Founding year
2005
Contact
kimeta GmbH
Mina-Rees-Straße 8
64295 Darmstadt
Germany
Tel: +49 61 51 78 04 30
E-Mail: mail@kimeta.de
Website: https://www.kimeta.de