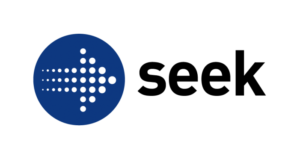 About the company
SEEK is a diverse group of companies that have a unified purpose to help people live more fulfilling and productive working lives and help organisations succeed.
SEEK is listed on the Australian Securities Exchange where it is a top 100 company employing over 6,000 people and with a market capitalisation close to AU $6billion.
SEEK is the global leader in the creation and operation of online employment markets. SEEK makes a positive contribution to people's lives through connecting more people to relevant job opportunities using its marketplace scale and technology to build radically more efficient and effective employment marketplaces.
SEEK owns leading job boards in Australia, New Zealand, China, Brazil, Mexico, Africa and across South East Asia and has exposure to 4 billion people and relationships with over 800,000 hirers and 180 million candidates.
SEEK helps people live more fulfilling and productive working lives and helps organisations succeed.
The SEEK group encompasses a strong portfolio of employment, education and volunteer businesses which span across New Zealand, Australia, China, India, Indonesia, Philippines, Vietnam, Thailand, Malaysia, Hong Kong, Singapore, Brazil, Mexico, Nigeria, Bangladesh, South Africa and Kenya.
SEEK makes a positive impact globally, with exposure to over 4 billion people and greater than 30% of Global GDP.
Our employment marketplaces are focused on facilitating the matching of jobseekers to employment opportunities, and helping hirers find candidates for advertised roles. Across our employment marketplaces we receive over 375 million site visits every month and have over 3 million job opportunities available at any given time and over 100 million jobseeker profiles.
In New Zealand SEEK offers a seamless job and candidate search experience across desktop, mobile and tablet devices. With a growing number of New Zealanders having a SEEK Profile, SEEK is well positioned to deliver highly relevant job opportunities in real time to candidates. SEEK's latest product Talent Search allows hirers to actively connect with relevant candidates for employment opportunities.
As part of SEEK's commitment to having a positive impact on society SEEK has recently launched SEEK Volunteer in New Zealand. The site offers non for-profit organisations free access to post employment opportunities for their organisations. This marketplace is something SEEK is exceptionally proud to be able to offer New Zealanders.
Over the 17 years of operation SEEK continues to innovate within the markets it operates in. We provide a culture of excellence and inclusivity in our workplaces and celebrate the diversity of employees that contribute to the success of our organisation.
Services and Offers
The offer for applicants offers the opportunity to search for vacancies, to upload a CV and to be informed by e-mail about vacancies. There is also much information around the topic of working life.
For employers, there are various paid services and offers, such as the posting of job advertisements (starting from 630 New Zealand Dollars) and the use of the CV database.
Detailed media data on SEEK Australia provide additional insight into the company and the labor market in Australia.
Headquarter
Melbourne, Victoria, Australia
Staff
1 to 100 employees
Founding year
1997
Contact
SEEK Limited
Level 5
5 High Street
Auckland
New Zealand
Tel: +64 0508 733 569
E-mail: info@seek.co.nz
Website: https://www.seek.co.nz/