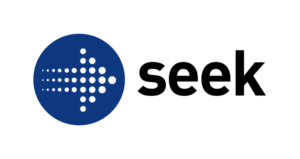 About the company
SEEK is a diverse group of companies that have a unified purpose to help people live more fulfilling and productive working lives and help organisations succeed.
SEEK is listed on the Australian Securities Exchange where it is a top 100 company employing over 6,000 people and with a market capitalisation close to AU $6billion.
SEEK is the global leader in the creation and operation of online employment markets. SEEK makes a positive contribution to people's lives through connecting more people to relevant job opportunities using its marketplace scale and technology to build radically more efficient and effective employment marketplaces.
SEEK owns leading job boards in Australia, New Zealand, China, Brazil, Mexico, Africa and across South East Asia and has exposure to 4 billion people and relationships with over 800,000 hirers and 180 million candidates.
Services and Offers
The offer for applicants offers the opportunity to search for vacancies, to upload a CV and to be informed by e-mail about vacancies. There is also much information around the topic of working life.
For employers, there are various paid services and offers, such as the posting of job advertisements (starting from 280 Australian Dollars) and the use of the CV database.
Detailed media data on SEEK Australia provide additional insight into the company and the labor market in Australia.
Headquarter
Melbourne, Victoria, Australia
Staff
1 to 100 employees
Founding year
1997
Contact
SEEK Limited
Melbourne (Head Office)
Level 6
541 St Kilda Road
Melbourne
Australia
Tel: +61 13 00 65 87 00
E-mail: info@seek.com.au
Website: https://www.seek.com.au/